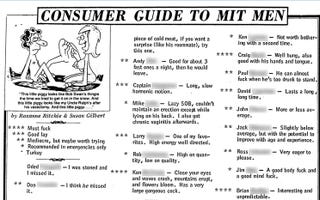 Of course, The Smoking Gun got their sleuthy little hands on it before our I-team did. And, just as we suspected, it's predictably 70's, with a cute little *** ratings system and silly cartoons.
But Karen F. Owen's Power Point conquest-ranking cruelty seems much more anthropological and thoughtful compared to the swift blows delivered by Roxanne Ritchie and Susan Gilbert. Two men are even branded with the dreaded (shiver) "Turkey" ranking.
Here's Turkey #1 Mike's review: "What can I say about a twit from Baker House who finally gave his virginity to the girl he was living with for her birthday?"
Here's Turkey #2 Ross's review: "If you want to be treated like a cold piece of meat, if you want to feel like a cold piece of meat, if you want a surprise (like his roommate), try this one.
Boom! Oven roasted. With sage butter. And cranberry sauce.
****
Thanks for your continued support of Deadspin, America's premiere weisenheimer website. Tomorrow, we find out if the bored ex-cops running NFL security plan to tattle on Brett Favre.