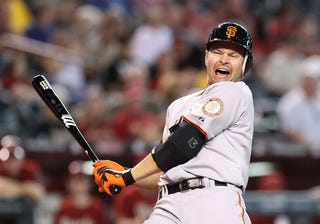 If you haven't already heard from Buck and McCarver that San Francisco's Cody Ross grew up with the dream of becoming a rodeo clown, these writers are here to hammer it into you with close, dull blows to the head.
Cash Kruth and Chris Haft, MLB.com:
For the uninitiated, a rodeo clown distracts a bull from a fallen rider. This naturally puts the clown at great risk. So there's nothing funny about the job
.
Hal Bodley, MLB:
Ross, almost like climbing on a horse to entertain the crowd, quickly rebuilt his career.
John Lott, National Post:
These days, Ross needs no greasepaint.
Janie Mccauley, AP, gives us a full dosage:
It's the first time many of the Giants have gone this far — this is Ross' first rodeo, too.

[...]

He made the career change to baseball around age 10. No clowning around.

[...]

It's been quite a ride for Ross this year.
Fox Sports headline:
Ross isn't clowning around in playoffs
Bob Elliott, Toronto Sun:
This wasn't his first rodeo.
Steve Henson, Yahoo!:
Giants hero Cody Ross isn't clowning around

[...]

Unless, it turns out, the hitter is as fearless as a rodeo clown.
And Cam Inman, Silicon Valley Mercury News, gets snarky:
Any Giants bats other than Cody Ross coming to this rodeo?