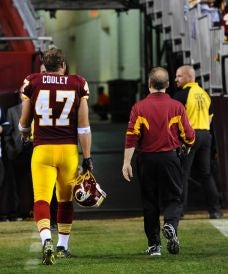 Every morning, the fine folks at Sports Radio Interviews sift through the a.m. drive-time chatter to bring you the best interviews with coaches, players, and personalities across the sports landscape. Today: Redskins tight end Chris Cooley.
Cooley joined 106.7 the Fan in DC with LaVar Arrington and Chad Dukes to discuss how he played after suffering the concussion, whether he could remember the plays at that time, the process for him and his health going forward, and whether he's worried about future concussions.
On playing through the concussion:
I've actually had a few concussions and in the past I don't remember anything. I was totally there yesterday. I remember every part of the game, I remember all the plays. I had a hit in the second quarter that kind of felt like it was a little bit of a bell-ringer. It was right before half and I came off the field and took a breath and thought, 'Wow.' I went into halftime and kind of had the idea that I could come back out, get moving around a bit and feel OK. It wasn't like, at the time, I thought I had a bad concussion. I was completely there and passed all the doctors' tests and stuff, but as I kept playing I just had more of a headache and I was a little bit slow.
On whether he remembers the plays:
It wasn't like that at all. … My tight ends coach … kept asking me, 'Hey, did you see what happened three plays ago?' Just trying to get me. And I could completely remember what was going on. I was just slow on the field. I felt like stuff was happening around me way faster than I was happening.
On the process of getting back to the field going forward:
What you do, initially, is called baseline testing. Every player takes a baseline test when they're fine and you do all the balance drills and then you do this computer thing and they make do all these words and you've got to remember words and shapes and stuff. I did the baseline test today and I was pretty close to what my baseline was. Tomorrow I'll go see, I guess I have a CAT scan. … You've got to wait until you have no symptoms for at least two days before you can do anything.
On whether he's worried about more concussions going forward:
I don't think I'm going to worry in the back of my mind about a hit. That's the one thing about the job that we do that you don't want. You don't want to have a bunch of concussions. It's has a terrible effect on you later in life. So I'll make sure I'm OK before I do anything, but I think I'll be fine. I feel fine. … I've had way worse. I've lost a day before.
This post, written by Eric Schmoldt , appears courtesy of Sports Radio Interviews. For the complete highlights of the interview, as well as audio, click here.
More From Sports Radio Interviews
• Stan Van Gundy Thinks College Players Should Be Paid
• HInes Ward Thinks Ben Roethlisberger Is Essential To The Steelers' Success
• Rutgers Feels Injured Player Will Walk Again