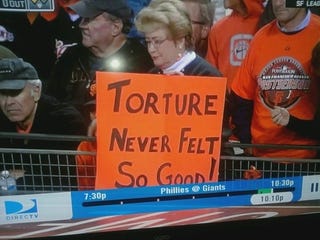 Because no one reads the newspaper, and SportsCenter's anchors are too perky for this early in the morning, Deadspin combs the best of the broadsheets and internets to bring you everything you need to know to start your day.
• The Yankees brought us all closer to getting a chance to see the Yankees get blanked in a Game 7 against Cliff Lee.
• The Giants won Game 5 thanks in part to Juan Uribe getting a favorable call and Buster Posey being the best Buster since Keaton.
• Josh Levin and Tom Scocca parse the NFL's incoherent rule book to determine what a tackler can and can't do.
• Elsewhere on Slate, Brian Phillips digged deep into the connection of right-wing extremism in Europe, soccer hooliganism, and the ease with which one can leave Serbia for a vacation.
• Elmo Keep tells her sordid tale of becoming a member of the KISS Army after interviewing Gene Simmons. No tongue, though.
• FreeDarko's Dream Week book launch countdown—next Tuesday!—continues with Paul Flannery on all the things that could've been with Phi Slamma Jamma.
• And, for the scientific proof that shows Houston should have beaten NC State back in 1983, I direct you here to those number-crunching bookworms at the Harvard Sports Analysis Collective.
• Can everyone please read and forward this story about Michael Jordan's goddamn Mercedes so I don't have to be told again on Twitter to read a goddamn story about Michael Jordan's goddamn Mercedes.
• Jonah Keri did a Q&A with the 30fps guy for the Business Insider.
Screengrab courtesy reader Christopher
*****
Good morning. We appear to have worked out some of the kinks that hindered us yesterday morning. Not being hungover helps a lot, kids.