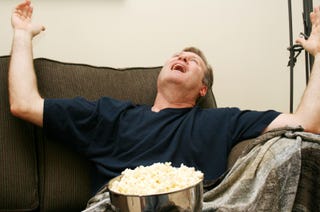 We want every Deadspin reader to see how much this Sunday's play of the week enrages, elates, or dejects you and your game-watching dude cluster. Pathetic and/or entertaining football reaction videos are what we're after, so get your preferred video recording device ready for this week's football contests. No dongs, please.
Here's what we're looking for: This guy basically freaks the eff out and kind of invents a new word ("fucktackle"); this one just sobs and crabs at his momma.
Get it? Good. So send your reaction video (a link to YouTube is preferred) to contests@deadspin.com with "Cue the Cuervo Play of the Week Reaction Videos" no later than 6pm EST on Monday, November 8. We'll sift through them, choose the one that we deem post-worthy, then feature it on Deadspin on Tuesday.
(Note: We're looking for original content, i.e., you/people reacting, not a video of the game. Any video with anything other than incidental game footage (meaning it's on in the background) cannot be chosen.)
A remedy for these sad-sacks? Cue the Cuervo.