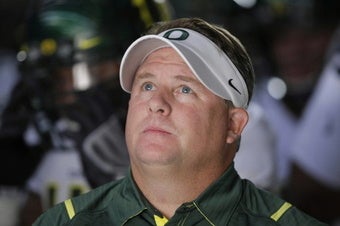 Every morning, the fine folks at Sports Radio Interviews sift through the a.m. drive-time chatter to bring you the best interviews with coaches, players, and personalities across the sports landscape. Today: Oregon head football coach Chip Kelly.
Kelly joined ESPN Radio with The Herd to discuss why his offense is working so well, whether Boise State belongs in the discussion of the national championship, if this year's Ducks team is significantly better than last year's, and how much of the success is due to athletes and how much of it is due to scheme.

On his no huddle offense working in tandem with his team's conditioning:
That's part of what we do. We think our conditioning is one of the strengths of this program and we practice at that tempo. We actually practice at a faster tempo than we play at. The referees slow us down a little bit. But that's part of what we do, we try to wear teams down.
On Boise State's place in the topic of the national championship:
I think Boise should be in the discussion. I think it's a great football program. I think Chris Petersen has done a fantastic job, but I would caution anybody to compare different years. This team we have this year is totally different than the team we had last year. It's a different dynamic and a group of leaders. I don't think you can compare year-to-year when you're talking about one team or another team. Because someone beat somebody a year ago doesn't mean anything.
On whether this team is significantly better than last year's Oregon team:
I don't know if it's significantly better, but I believe we're better overall just because of the makeup of our team and their mindset.
On how much of the success at Oregon is the athletes and how much is the scheme:
I think we don't get caught up in that because, to me, it's always about the players. I think the one thing that probably gets lost in this thing is that, who makes these players 5-star players? That's where I think some of this stuff gets overblown. We have four players right now in the NFL, defensive backs: Walter Thurmond, Patrick Chung, Jairus Byrd and T.J. Ward. They were all either 1-star or 2-star recruits, but by the time they were done playing here, they were all good enough to get drafted in the first two rounds of the NFL.
This post, written by Bunk, appears courtesy of Sports Radio Interviews. For the complete highlights of the interview, as well as audio, click here.
More From Sports Radio Interviews
• Will Eric Wedge and His Mustache Be the Key to Turning Things Around in Seattle?
• All Percy Harvin Was Missing Was A Number One Receiver To Take Some Of The Heat Off Of Him
• Carson Palmer Doesn't Foresee The NFL Changing "At The End Of The Day"