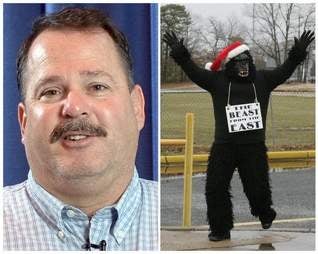 What's sadder than being a mascot for a little league team? Not much, actually. But the "Beast From The East" just started 10 years in prison for stealing more than 200 grand from the league.
The nation (or at least Toms River, NJ) was captivated by the Toms River team's 1998 journey to becoming Little League World Series champions. Cheering them on all the way was a dude in a gorilla suit.
Yes, for some reason, the Toms River little league had a mascot. But someone should have asked the question: where does a gorilla get the money to buy a Santa hat? From the wee little children, of course.
Richard Cunningham pleaded guilty to diverting $237,000 from league fundraisers directly to himself, and today began serving his 10-year sentence. That seems like a lot of money, and the article says the league has an annual budget of $200,000. How on earth does a small town little league spend all that money? On mascots, apparently.
Toms River 'Beast from the East' gets 10 years [Asbury Park Press]
[h/t Iracane]