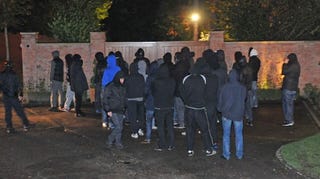 The following is a special presentation of The Spoiler. Wayne Rooney signed a new deal with Manchester United today, however, news of what transpired last night is juicy, funny, a little frightening, and could hold the reason for his change of heart.
Around 30 Manchester United fans, some covering their faces with hoodies or balaclavas, stormed Wayne Rooney's house in protest last night, demanding an explanation for recent events at the club.
The group—apparently identified as being from United firm "Men In Black"—massed outside Rooney's digs in Prestbury at about 8.30pm last night, carrying a banner reading "Join City & Die."
Rooney is reported to be in the house at the time, along with wife Coleen and baby Kai. According to the Sun, one man was heard buzzing the intercom pleading:
We want to talk to you, Wayne. We want you to explain the real reason you want to leave. We're not going to hurt you.
How reassuring. Both police and security guards were soon called, a police spokesman reporting:
At 8.30pm, a call was received from a resident in Prestbury regarding 20 to 30 people assembling outside their address. Police attended the scene and the group dispersed peacefully.
The Sun claim to have had a pow wow with the group's "leader," who said:
We don't believe what Rooney said about his reasons for leaving the club. We want answers.

The club is struggling for money but it was struggling for money four months ago—so what's changed?

He has got himself in a mess in his private life and we understand if he wants to run away abroad, but the least we deserve is that he's honest with us.

If he joins City it's going to go off and he'll be seeing us again.
[Ed: Holy shit, right?]

This post, written by Richard Gilzene, is republished with permission from The Spoiler. Go there often if you like soccer stuff.