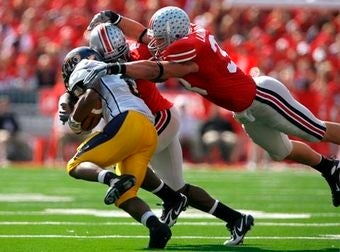 Sure, common folk are probably interested in LSU at Auburn, Wisconsin at Iowa, Nebraska at Oklahoma State or Kansas State at Baylor. I'm all about Kent State at Bowling Green, though. And here's why:
Anytime Kent State plays, I root for people to get hurt. Not injured. Hurt. There's a difference.
Same goes for the Pittsburgh Steelers and Archbishop Hoban, Buchtel and Coventry High Schools in Ohio. If I get fined for that, I may retire from watching football altogether. Some guy in a league office and bunch of medical evidence shouldn't be able to tell me I can't.
I like real football; if somebody's brain has to get damaged as a matter of course, so be it. How can I continue to watch this game the way that I've been taught to watch this game since I was 10 years old?