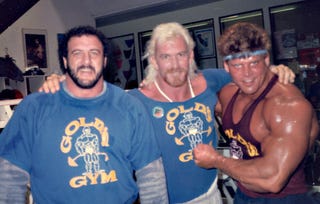 Arizona at Seattle. New England at San Diego. Oakland and Denver. Minnesota at Green Bay. There's your lineup. Now, onto the real game: What insanely competitive former NFL player apparently copped to using anabolic steroids over at Reddit?
I played over 15 years total. There isnt much that I havent seen throughout my travels. Nothing is off limits.
EDIT: I'm not going to reference my interactions with any named players. I'm sure based on some of the info I've already divulged it could lead to other issues for me and possibly for them. That being said, you can ask any question you like, but that doesnt mean I can or will answer it.
I'd rather be safe than sorry on my side. If that makes this thread unbearable for you, click the little X at the upper right hand corner of the screen.
Tipster VB went through and pulled out some details mentioned in the thread ...
• Played in the NFC
• Played for multiple teams (3 coaches)
• Started quite a few games.
• In high school I played RB and DB. In college I played one year of RB and then switched to DB. When stopped playing, I was still a DB (CB, SS, FS)
• Playing weight was 215 lbs
• Played for 5 years. Been out of the league 4 years.
• Played in bowl games in college. never a playoff or superbowl game.
Remember to phrase it in the form of a question.