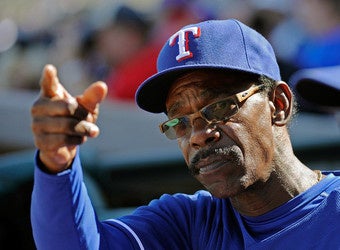 "Giants of old" are calling on the current San Francisco side to win the Series for "all of us."
"I can't get '62 off my mind because people are always bringing it up," [Willie] McCovey said Friday. "Wherever I go, someone reminds me about that line drive in '62. In secret, I was hoping we'd be playing the Yankees because we owe them some payback, but it's just nice being in the World Series." [San Francisco Chronicle]
Meanwhile, the Texas Rangers are on the prowl for their franchise's first World Series game victory.
This moment calls for a word from former Dallas Stars coach Ken Hitchcock, who, once pressed by media (including yours truly), about losses during a playoff run, delivered this stern little lecture.
"Calm down, boys," he said. "A series does not really begin until a home team loses a game. What, is this your first rodeo?" [Star-Telegram]
Whatever. Wonder what The Machine was a'thinking while Justin Bieber was a'singing, and whether It has an opinion about Presidents Bush throwing out tomorrow's first pitch.