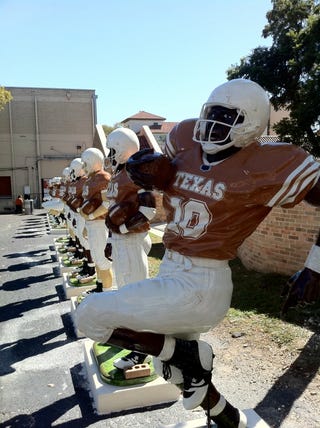 What you see here a nice piece of statuary built in honor of one of the great Texas Longhorns of all time: Al Jolson.
Or maybe that's Vince Young. It is difficult to say. Sports has many ways of honoring significant figures: a jersey in the rafters, a mural, a bronze statue; hell, Walton Payton and Roberto Clemente have high schools (there are probably a lot more, but those two jump out). These honors are usually commissioned and, you know, don't look like something out of Mammy.
[Via the Shaggy Bevo message board]
******
Thank you for your continued support of Deadspin. Hickey's here with all your Halloween/sports stuff tomorrow and Sunday. In the meantime...