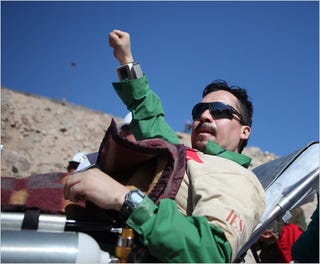 How would the average person spend 69 days trapped underground? Edison Peña ran three to six miles daily. Now he's running in the NYC Marathon this weekend. Great. I'll be on a couch, trapped under a pile of wings.
Peña earned the nickname "el minero corredor," or "the runner," because he'd run throughout the network of tunnels, half a mile underground, nearly every day that the miners were trapped. And because no one likes running without their personal pump-up music, Peña requested and received an iPod for his jogging soundtrack—filled solely with Elvis Presley songs. To each his own.
The New York Road Runners president, Mary Wittenberg, invited Peña to attend or run the race in mid-October, and he accepted her invitation. He chose to run.
"We don't know how far he'll be able to go," said Julio Fiol, the UN's Chilean consul-general, "but he's going to try his best." Perhaps this time, hope will win. After the race, Peña is reportedly making a trip to Graceland, as well. Hasn't he suffered enough?
He's in! Chilean miner Edison 'The Runner' Peña will run NYC marathon [New York Daily News]