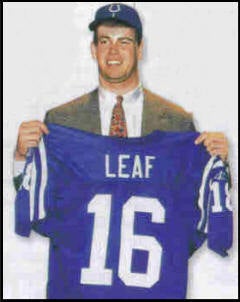 Was it really 10 years ago that the Indianapolis Colts made the fateful decision to draft Peyton Manning over Ryan Leaf in the NFL draft? To mark the occasion, Leaf is showing off his No. 16 Colts jersey — yep, one such exists — which he found while rummaging through some personal belongings recently.
Leaf tells the tale to Sports Illustrated, via Larry Brown Sports, of What Could Have Been.
It's ironic: I had some of my storage stuff from Montana shipped down to Texas, and I ran across — I forgot I even had it — an Indianapolis Colts jersey, number 16, with LEAF on the back, that I think they had ready for draft day. I'm thinking about auctioning it off for charity. There's no reason for me to keep it.
Of course this would not be quite as valuable as my Chicago Bears Favre jersey. Other valuable collectibles:
• Barry Bonds Red Sox jersey.
• LeBron James Knicks jersey.
• Fred Thompson White House stationary.
• Romo-Simpson wedding invitations (with envelopes).
Greatest Sports Collectible Ever? [Larry Brown Sports]
What If The Colts Had Chosen Ryan Leaf Over Peyton Manning? [The Red Zone Report]