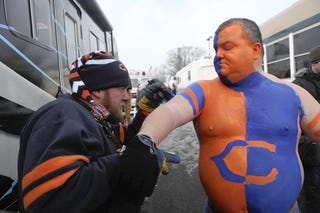 Michael Lyp is a really big Chicago Bears fan. Like, 302-pound big. Which means it takes much product for his gameday body-painting rituals. Says the Chicago Tribune, "he stands out in the vibrant tapestry of fans at Soldier Field."
"Most people are like, 'Wow I can't believe you do that,'" Lyp said. "It makes me proud to be hard-core."
An imposing body of work [Chicago Tribune]
****
Thank you for your continued support of Deadspin. Good job today, folks.