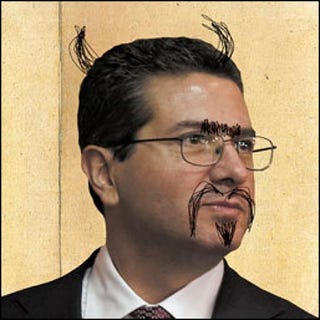 Here's your daily link to Dave McKenna's brilliant "Cranky Redskins Fan's Guide to Dan Snyder," which we'll be posting until Snyder's dumbass libel suit's lambs stop screaming. Today's topic: Pepper Rodgers, specifically the excerpt about him from McKenna's story. To wit:
Rodgers, Pepper: FedEx official whom Snyder almost made Redskins head coach. Snyder knew he wanted to fire Norv Turner in the middle of the 2000 season, but he didn't have anybody to put in charge. So he contemplated Rodgers, 69, who had never coached in the NFL and whose last coaching stint was with the Memphis Mad Dogs of the CFL. Rodgers' main qualification for the Redskins job was that, after FedEx became a Redskins sponsor, he watched games with Snyder in the owner's box and told stories about coaching John Riggins at the University of Kansas.
Be a powerful, overly qualified friend of the City Paper via donation to the weekly's legal defense fund.