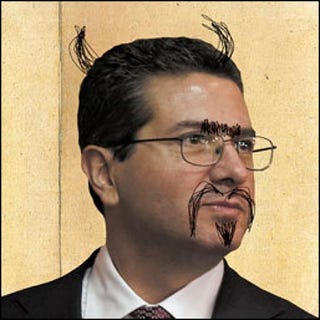 Here's your daily link to Dave McKenna's brilliant "Cranky Redskins Fan's Guide to Dan Snyder," which we'll be posting until Snyder's dumbass libel suit takes up residence in Davy Jones' locker.
Look upon your works, Dan Snyder. Despair. Here are some post-apocalyptic images of Six Flags New Orleans posted by the Theme Park Insider yesterday. This is what a place that used to be a fun destination for kids looks like after a hurricane mauls it and a Dan Snyder-helmed company plunges into bankruptcy.
The last image is, perhaps, the most forlorn:
If you look closely, you might see a small, stupid man at the top of the Ferris wheel, his mouth set in a hard, tight line, his hands clenched on the rail.
Make life fun for kids again. Donate to the city paper's legal defense fund.
A photo tour of the abandoned Six Flags New Orleans [Theme Park Insider]
H/T Shel N.