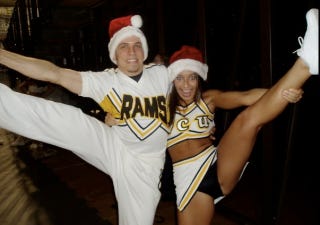 In the evening's first Final Four game, the Virginia Commonwealth University Rams tip-off against the Butler University Bulldogs around 6:09 p.m.
Shortly thereafter (tentatively set for 8:49 p.m.), it's the University of Kentucky Wildcats vs. the University of Connecticut Huskies.
The winners play for the national championship on Monday night. The losers get a set of steak knives.
Here are a few clips that tipsters sent in over the past few days:
• Fan Stats for Game Day [RapLeaf]
• It's On: College Championship Smack Talk on ooVoo [YouTube]
• Kentucky Wildcats 2011 Grey Hardwood Short Sleeve National Championship Tee [Fans Closet]
• NCAA, Homeland Security partner in planning a safe Final Four [NCAA]
• Nuns Going To Final Four For UConn [Courant]
• Shaka's Got 'Em Believing [YouTube]
• VCU (Final Four Song) [SoundCloud]