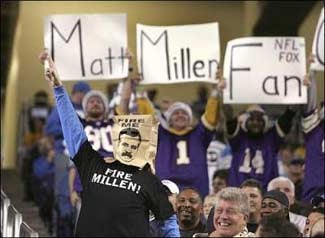 Let's see ... how could Matt Millen and the Detroit Lions possibly alienate fans any more than they already have. Hmm. Well, jeez, you know, we just can't think of anything; we can't imagine a conceivable way they could devastate that fan base more completely. Wait, here's one: They could tell their fanbase to fuck off. Literally.
Accidentally, of course. A fan trying to cancel his season tickets got a rather unfriendly message from a team employee.
Furlong canceled his season tickets in an e-mail to Schul. Powser then e-mailed Furlong with an offer for more desirable seats, but Furlong said it was a matter of principle — and he wouldn't accept the offer. Then Furlong received the inadvertent e-mail from [team employee] Schul.



The entire e-mail reads, "Lance...he is not talking about you here. Mark was asked to speak to these people and he said no. Fuck 'em until next year."
The real telling part of the story, we thought, is how Furlong, the season ticket holder, found his seats constantly downgraded each year, which is why he canceled his season tickets in the first place. God, Lions fans: Enjoy the Pistons while you can.
Does E-mail Show How Lions Really Feel About Their Fans? [The Oakland Press]