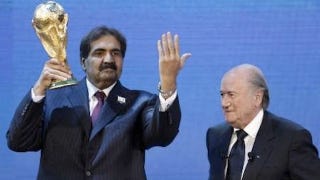 These Qataris don't wait around. The World Cup is set to kick off in Arabia during the summer of 2022, when temperatures will exceed the boiling point of steel and most life forms will already be extinct. So why not start oppressing reporters now?
On April 1, sports journalist Christophe Cerf and cameraman Yvan Thorimbert from Radio Televison Suisse were filming "landscape shots" for a report on Qatar's staging of the World Cup when local flatfoots stopped them, slapped on the cuffs and confiscated their equipment. The reporters were held against their will for almost two weeks and interrogated several times.
From AFP:
[T]hey were stopped by a police patrol at Mesaieed and taken to a local police station, where they were handcuffed and interrogated for several hours.

After being transferred to a station in Wakra for further interrogations, they went in front of a judge in Doha, where "they had to pay a fine, without receiving either a report about their offence or a receipt".

The cameraman had his camera confiscated but he and the journalist were then freed, but without official authorisation to leave Qatar.

Returning to the place where they had been arrested, they "were able to confirm that there was no indication that filming was forbidden," said RTL.

"Moreover, before leaving for the country, the Qatar embassy in Geneva had told them that they could film 'freely,'" added the channel.
Shouldn't be hard to get media credentials for this one.