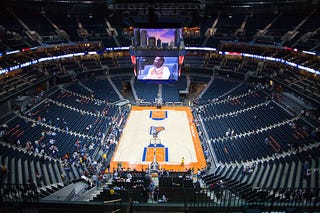 And it's not as if a ton of people go to Bobcats games.
Sports Business Journal has the local TV ratings for all 30 NBA teams this season, and there are quite a few interesting numbers in there. But since we're miserable people whose parents never showed us enough love, we'll focus on the negative. The Charlotte Bobcats drew an average of 12,000 viewers television sets per game on SportSouth, a number not much helped by their zero(educated guesstimate) national TV appearances. If it makes them feel better, that's a nearly 10 percent increase from last season.
It's not just them: Milwaukee and playoff darlings Memphis also attracted less than an arena's worth of viewers. And the lowest ratings (percentage of TVs tuned in) belong to the woeful Nets, with just a 0.29. Numbers like these make it more believable that the league is losing money.
Also of interest in the numbers (all of which are at SBJ's site) are those teams actually garnering viewers. The Spurs, Jazz and Heat were the top three rated teams. What do they all have in common? No other local sports teams (or they don't care about them, in Miami's case).
Biggest gainers this year are the Clippers (Blake Griffin), the Heat (duh), and the resurgent Bulls and Knicks. Biggest losers from last season were the Cavaliers (duh) and Hawks (still Joe Johnson, I guess).