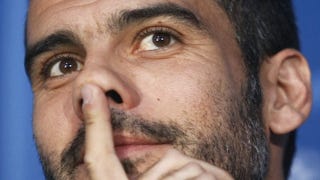 The Spanish Superbowl enters its second stage today in Valencia. This one is for the championship of the Copa del Rey. On Saturday, Real Madrid managed a shorthanded come-from-behind 1-1 draw in a league game. Over the next two weeks, the teams will play twice more to decide a Champions League semifinal. Today's game, however, is about swarthy Iberian pride. And don't the coaches know it. Jose Mourinho and Pep Guardiola engaged in a little sideline jousting while remarking on the last match, with Guardiola's disdain coming out ahead:
"It was a very balanced game when we were playing 11 against 11," Mourinho said. "Barca is the best team in the world at holding on to the ball. With 11 against 10, they were able to do what they wanted."

Lost in this argument was that Real Madrid tied the score when it was playing a man down.

Mourinho questioned whether any team gets a fair break when playing Barcelona.

"I would like to play one day against Barcelona with 11 men," he said. "I would really like to, but I know that in Spain and in Europe that is mission impossible."

Barcelona Coach Josep Guardiola has opted not to stir the waters.

"Mourinho is a good coach, but I would never permit myself to give tactical opinions on the work of a colleague," he said.
Barcelona-Real Madrid games should provide good drama [Los Angeles Times]