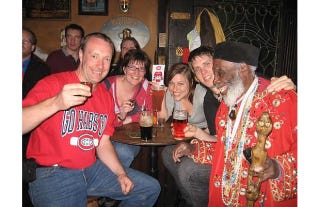 The Pittsburgh Penguins, Washington Capitals and San Jose Sharks can all advance to the next conference semifinals with victories today. Another way to put it: Today could be the last day of the season for the Tampa Bay Lightning, New York Rangers and Los Angeles Kings.
Games start at noon, 3 p.m. and 10:30 p.m. eastern, respectively.
Montreal returns to Boston tonight to determine who will take a 3-2 series lead.
Home team just 1-3 in series [Tampa Tribune]
Stand-in Penguins singer catches red glare [Pittsburgh Tribune-Review]
Rangers now need monumental comeback in NHL playoffs after Capitals pulled one in Game 4 2OT win [N.Y. Daily News]
Kings taking a gamble by playing Scott Parse [L.A. Times]

Canadiens have to 'cowboy up and do it,' Carey Price says [Montreal Gazette] (Bonus: Show us your Habs colours)