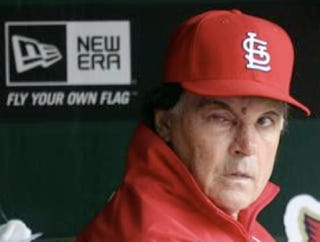 Here's an email which came in response to Thursday night's post about the state of St. Louis Cardinals manager Tony LaRussa's mug.
That is shingles of the forehead and eye, not pink eye.
All the antibiotics in the world ain't gonna help him - about 1-2 weeks for it to improve.
And then he may have to deal with severe post herpetic neuralgia (= pain)

Signed
Dr. D. MD (I really am a physician)
Yeah, he wrote herpetic.

Now, Tony LaRussa Is Ugly On The Outside, Too [Deadspin]
Bernie Bits: Cards-Reds rivalry has a different feeling [Post-Dispatch]
(Photo H/T Fotoglif)