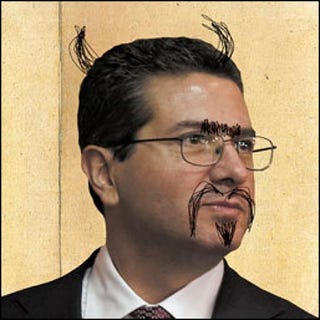 Here's your daily link to Dave McKenna's brilliant "Cranky Redskins Fan's Guide to Dan Snyder," which we'll be posting until [Daniel] Snyder's dumbass libel suit gets wrapped in white linens and dropped to the bottom of the Potomac.
Today's post is brought to you by the letter "C." As in, this is the 100th post so let's revisit the two "C" entries in McKenna's brilliant piece. Here they are, in their entirety. Don't sue us for copyright infringement or anything, Dave. It's not like we're using the name of the person/team we're covering in the posts through which we cover him/them.
C

Casserly, Charley: Redskins general manager who played a lead role in assembling the 1991 Super Bowl championship team. Snyder fired him in 1999 to clear space for Vinny Cerrato, who played lead role in 1994 feature film Kindergarten Ninja.

Conflict of Interest: What Snyder created by employing members of the D.C. media to work for Redskins Broadcast Network, wholly owned by the team. Among the many journalists who worked for Snyder while also reporting on his Redskins for major news outlets: George Michael, Michael Wilbon, Dan Hellie, Wally Bruckner, Andy Pollin, Lindsay Czarniak, Brett Haber.
Here's hoping you see it in your financial heart to help the City Paper via donation to the weekly's legal defense fund.