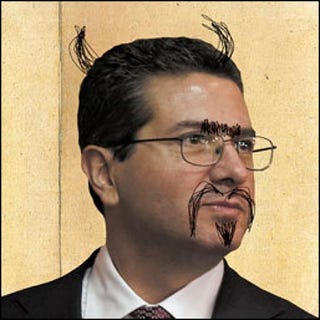 Here's your daily link to Dave McKenna's brilliant "Cranky Redskins Fan's Guide to Dan Snyder," which we'll be posting until Dan Snyder's dumbass libel suit expires like an old bag of airline peanuts.
The Dan Snyder media machine continues on spin cycle today. Peter King wrote a Monday Morning Quarterback column this week in which he linked to a tweet by defrocked ESPN radio host Jim Wexell in which Wexell says that Dan Snyder did an interview with Sirius radio in which Dan Snyder said the Pittsburgh Steelers backed out of a deal with the Redskins to trade first-round picks. King made a big deal out of it.
Mike Florio piled on. Chris Mortensen piled on. Foolishness piled on. Then Sirius and the Redskins denied that Dan Snyder had said such a thing or even appeared on Sirius radio. Florio blamed it on King. King crossed out everything he'd written. Wexel, who now writes for Scout.com, took down his tweet and posted an apology.
Just what in blazes is going on here? One might be tempted to think this is some kind of arch-PR scheme by Tony Wyllie to discredit the press. But then one would also have to give Wyllie and the Redskins a lot of credit. Maybe Wexell would be so kind as to tell everyone where he got his information.
Please help a credible member of the media with a donation to the City Paper's legal defense fund.