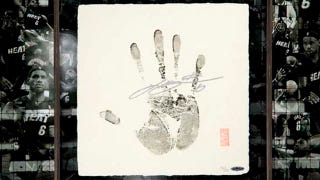 When you think of LeBron James, what's the first thing that comes to mind? If you are precisely no one, the answer is $3,000 Japanese handprints. But, lo, a presumably fine fellow from Upper Deck passed along a press release today announcing the sale of those very handprints. There are only 26. In the world.
Carlsbad, CA (May 16, 2011) – At the same time LeBron and company are squaring off against the top-seeded Bulls for the right to compete in the NBA Finals, Upper Deck Authenticated (UDA) is proud to announce the release of its newest piece of exclusive LeBron James-signed memorabilia: "Tegata." The stunning autographed piece includes an inked right-hand print of James following a traditional form of Japanese memorabilia reserved for only the finest athletes in their respective sports.

"LeBron's first season with the Heat provided us with a great opportunity to introduce one of our top exclusive spokesmen in this unique way," said Steve Sloan, director of UDA. "What better way to christen LeBron's first year in Miami than with an original 'Tegata,' which is considered the highest form of recognition for athletes in Japan."
Um.
LeBron James Signed 'Tegata' Hand Print by Upper Deck Authenticated [YouTube]