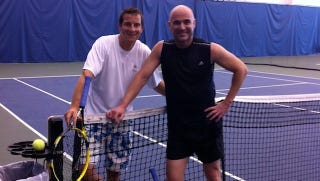 The Deadspin tips line received an email today with this subject: Bear Playing Tennis. It was a thrilling possibility. A bear playing tennis? You just don't see that everyday. We were prepared to make a lot of half-assed rapture jokes about it.
But alas, it was not a bear playing tennis. It was not that at all. You must feel duped, and we're sorry. We share your disappointment, and probably your disgust. This is not a bear playing tennis, or at least it is not the bear playing tennis that we all deserve to see. This is Bear Gylls wearing Hawaiian-print swim trunks and taking a break from a tennis match against Andre Agassi. It is, we're quite certain, the worst possible letdown from the promise of a bear playing tennis.
The persistent PR lady who sent us not one but two shots of Grylls and Agassi standing together promised that the attached photo "is FREE to use," so she's under the impression that we'd actually be concerned about having to pay for this (the Deadspin compensation calculator estimates this photo's value at a $30 return to us, because our hearts are broken). She also shared that [sic'd] "the two stars mingled and spoke with students and then played a 'friendly' match of tennis," and wanted the world to know that "Grylls who is an avid tennis player held his own."
It just would have been much more impressive if Bear were a bear. But fine: PR Dummies 1, We The Internet Dummies 0.