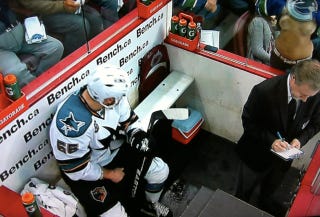 The inevitable counterpoint from somebody offended by Ben Eager getting to scope some breastuses from the penalty box at the Canucks/Sharks game the other night has arrived. Presenting Katie Maximick of Canucks Hockey Blog out:
[I]t made me feel pretty pissed off. Why? Well because after all the articles I've written on female fans and our fight to be taken seriously in the NHL, some chick goes and does something like this and sets us back a peg in the hockey world.

Flashing on national TV is embarrassing, not only for women watching the game, but for Vancouver fans in general. Whether you've thought about it this way or not, it was a pretty inappropriate move for a fan to make no matter what city it's in, and Canucks fans have a bad enough reputation as bandwagoners and ref whiners. Do we really need to add "classless" or "trashy" to that list too?

It's not appropriate for a guy to take off his shirt at a hockey game, and it sure as hell isn't for a female to do the same when there are many children watching from either the crowd or their living rooms at home.
Hey Katie, it's so belittling to call her a "chick," no?
Ranted: A Pair of Eager Breasts [Canucks Hockey Blog] (H/T Bob's Blitz)
Previously:
Apparently Hockey Boobs Have A Face
Here's Your Keepsake NSFW Photo Of A Canucks Fan Showing Her Breasts To The Penalty Box, World