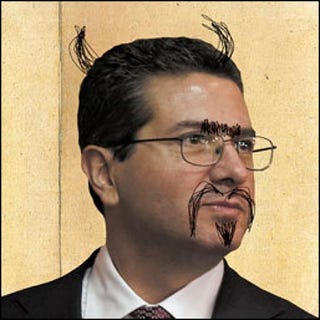 Here's your daily link to Dave McKenna's brilliant "Cranky Redskins Fan's Guide to Dan Snyder," which we'll be posting until Snyder's dumbass libel suit is forced to publicly apologize to every last person it has wronged in the name of ego gloryholeification.
Today's topic: Animation. As in, wee lad Danny has kind of been quiet this week. I mean, there was that whole "trying to cut a draft-day deal with the Steelers" thing that got Steel City Football and CBS Sports's Eye On Football and Peter King and PFT and Chris Mortensen to falsely report Danny talked on Sirius radio about it. Or something.
That's fine. But it doesn't outrank taking another look at Taiwanese-animation masterpiece "Washington Redskins owner Dan Snyder is an asshole."

See?
Please help the City Paper with a donation to the weekly's legal defense fund.