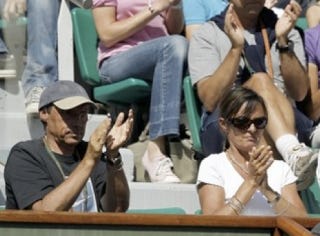 After 2007 Wimbledon runner-up Marion Bartoli dropped the first set of her match yesterday, she "gestured furiously for her mother and father, who is also her coach, to leave the viewing area in Court 14."
"I was so tired and exhausted that really I had to express my emotions somehow," she said when asked about the unusual development. "I needed to get that frustration out so I showed it that way. I could have broken a racket or thrown a bag or something. I normally never act like that but I felt at this point I had to get all this frustration out and start again."
The Frenchwoman won in three sets and will face Serena Williams on Monday. No word on whether the Bartoli clan will be permitted to watch.
Wimbledon: Marion Bartoli battles through after banishing parents from court [Reuters]
Bartoli Edges Pennetta, Serena Cruises On [WTA]
(H/T Bob's Blitz)