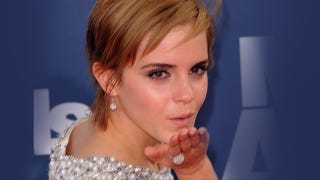 Welcome back to Deleted Scenes. This space is now reserved for those scuzz-money entrepreneurs who've unsuccessfully tried to sell us prurient information. This is also where we'll run notable emails we've received from some of our readers. All emails are [sic]'d. Enjoy.
Price offered: $64.32
From: [Derek]
Hello,
I have a real photograph of Emma Watson topless. You can see her face and whole body, she has a skirt on but naked from waist up. I have a buddy at Brown who had sex with her and got a photo after the fact as she was getting dressed. He sent it to only a few of our close friends. I am selling it to a website, this is not in circulation I just got this last night. If you are interested please let me know ASAP. I have not emailed anyone else yet, I would like to sell it to you.

Thanks, hear from you soon.

- Derek
Deadspin: $64.32?
Derek::
That's really not enough. I have talked to people who would offer over $300 just to sell it to someone else and make a profit. It's a legitimate picture, I just got this from last night and you can really tell it's her. It will get big press when it comes out seeing as the last Harry Potter is about to come out so she's as big as she will ever big fame wise.
Notable Fanmail
SUBJECT: Cheerleader Photo

I am possibly interested in purchasing the photos of the cheerleader that is referenced in the article below. Can you pass my contact info along to your source?

http://deadspin.com/5811511/

Thanks,
Bill Smithson
SUBJECT: Really? You let your writers use profanity in the title of their articles?
Perhaps I should band together all the parents of impressionable kids who read this article and sue your company for moral turpitude, violating FCC rules and regualtions — James Cole
Subject: Inappropriate Comments

To Deadspin/Gawker:

In today's funbag post drew magary calls the Miami Heat "hippity hoppers". I can't help but wonder if this is because their starting lineup (and thus most visible and easily recognized players) are African-American. How is this any different or even slightly different from recent comments made by Fox Business Channel host Eric Bolling referring to the "White House" as the "hizzouse" when President Obama met with the President of Gabon. Does magary think that all African-Americans are rap artists or fans of the genre? Or is he trying to insult them with what he knows to be a blatant and ugly racial stereotype?

Regardless of his intentions, I found magary's comments offensive, inappropriate and very racist. One might make the argument that being offensive is part of his humor. But there is a difference between offensive and funny, and just plain offensive; this is a case of the latter. The comment he made was cleverly disguised and reads like a subconscious manifestation of a racist psyche. This is concerning and deeply upsetting, as I was (may no longer be) a semi-regular visitor to your blog for some months now. I would like to know if there is an explanation for these comments and what, if any, actions will be taken and consequences meted, going forward. I look forward to a timely response and resolution to this matter.

-Devin
Remember, all emails sent to the Deadspin tips line or individual editors are considered on the record unless specified otherwise.