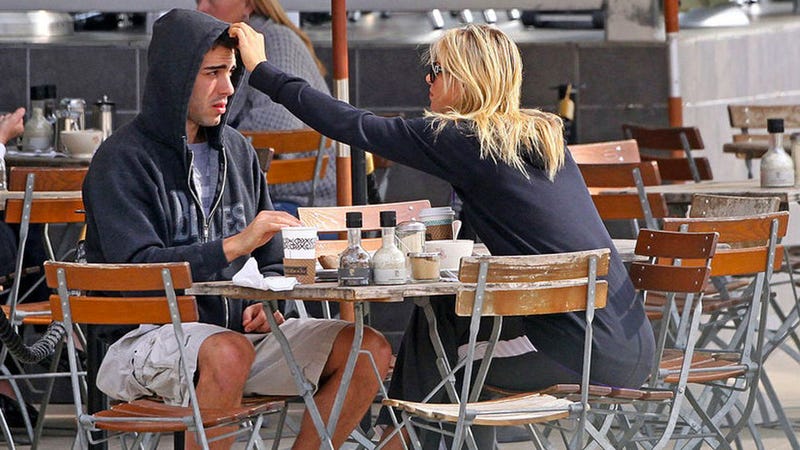 Tomorrow's New York Times has a feature on Maria Sharapova and Sasha Vujacic, sports' biggest power couple since Shelden Williams tied the knot with that lady. You probably remember Vujacic from the 2008 NBA Finals, when he and his hair nearly derailed Boston's title chase. He's since been exiled to New Jersey. He's no more likable.
For example, Vujacic may be the only Nets benchwarmer to say something like this, "Being an elite athlete is something that's hard to explain if you haven't done it."
Thankfully, he's found a new venue in which to pump his fist:
Being a spectator, he added, is the worst. During Sharapova's matches, Vujacic sits ramrod straight and taps his hands on his knees. After she ices a point or a game, he raises his right fist and keeps it in the air in case Sharapova glances at her box.

Sharapova played her fourth-round match Monday against Shuai Peng on Court 2, and by the end of the first set of her 6-4, 6-2 victory his baby blue T-shirt was stuck to his skin. "You can see I'm all sweaty from watching her play," he said afterward.

When Sharapova watches Vujacic play, she said, she gets "a lot more nervous than I have been in my life." She added: "It's a lot tougher to be on the sidelines. That's what I've learned."
Those 109-103 Nets-Wizards games can be terrifying!
Up in the Players' Box, a Fiancé, Fan and Fellow Athlete [NYT]