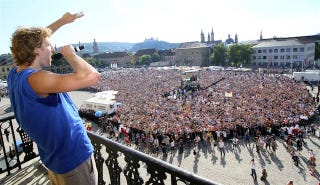 Your morning roundup for June 29, the day we started rapping on light poles. Image — of Dirk Nowitzki's triumphant return to his hometown of Wurzburg, Germany — via MSNBC Photoblog.
What we watched: Break up the Mets! After 299 grand-slam-free games, during which the Mets allowed opponents to hit 18 grand slams, your New York Metropolitans—now 40-39—bashed grand slams in back-to-back innings, both off of Stink's progeny, Daniel Schlereth. (We'd compile a list of things that had happened since Angel Pagan's grand slam on August 1, 2009, the last time the Mets hit a grand slam, but Ke$ha's ascension is the only cultural phenomenon that comes to mind.) Last night's first slam rocketed off the bat of blue-eyed goat Jason Bay, who sits at .234/.312/.313 after a recent hot streak, while the next came from unlikely paragon of health, and more reliable Met masher, Carlos Beltran. And yes, the Mets broke a bizarre streak in innings four and five, but those two frames also saw New York gather 11 of its runs en route to a 14-3 defeat of Detroit, with fellow Dickey R.A. on the hill. 9.5 games behind Philadelphia—who shut out Boston last night—isn't optimal, but, well, on the bright side, the Mets are five games up on the Dodgers, leading the bankruptcy division. (Jack Dickey)
What we're watching: The last not-quite-great-but-perfectly-good American tennis hope, Mardy Fish, will play for the only remaining American tennis glory at Wimbledon today in his quarterfinal against Rafael Nadal. Fish is something of a punchline for this country's tennis cause, but the line has lost some of its value now that the 29-year-old has, well, lost some of his weight. He dropped from over 200 pounds to 170 last year, and his game has changed because of it: he's still the big server he was before, but because he can actually cover the court now, he's able to counterpunch and engage in long rallies. Against Nadal, however — whose play is something like psychological warfare for opponents — Fish isn't set to keep up. In the New York Times Straight Sets blog last night, Geoff MacDonald summed it up thusly:
He has to formulate a shrewd game plan, matching his strengths against Nadal's one or two less than stellar tendencies, then quickly recalibrate when Nadal makes a subtle adjustment.
MacDonald has about 750 more words on the subject, but that may be all we need to know for Fish's actual chances. He'd have to play "the match of his life" to advance to the semifinals. He'd have to take the warfare well. Fish is 0-5 against Nadal in his career, and he's only managed to win one set in those losses. The Spaniard acknowledged this week that Fish is "playing at a very, very high level" right now, but that won't be enough for Nadal's crafty play. He'll take it in three sets, and then we dejected American tennis fans will return to our sad punchline: Mardy Fish! (Emma Carmichael)
Elsewhere
More on Jonah Lehrer's Grantland piece: "Lehrer dresses his argument up in a Malcolm Gladwell-like pop sociology motif, but it's the same argument that curmudgeony old sportswriters have been using since the dawn of time: these geeks aren't really sports fans. Not like the rest of us. If only they could get their heads out of their spreadsheets now and then, they could learn to live life a little, enjoy themselves a bit. Well, guys, I appreciate your concern, I really do. But do me a favor, would you? Just shut up. I know which end of the bottle the beer comes out of, I really do. I've watched ballgames outside, in actual sunlight-no, really. If knowing that a pitcher's BABIP against rate in a small sample is largely unpredictive of his rate in a larger sample makes it harder for you to enjoy watching a game, I'm sorry. But if knowing more about baseball makes it harder for you to enjoy the game, then I'm really not seeing your case that you're the better fan than someone like me." [Baseball Prospectus]
And yet more: "What about someone like DeShawn Stevenson? He won. He's a winner. He's a free agent. Should teams line up to sign him? Tyson Chandler, too. We have three winners here. Should every team try to sign them all? Is Chandler more important than Barea? He started more games. But Stevenson started more than Barea. I wish we had a system to sort this all sort. I wish we had more information on why the Mavericks won so that we could better decide who is more important. ... Ah well, I think messing with your head being all short and scoring in the lane like that is the most important thing that happened for the Mavericks, so Barea it is. Shove off, Chandler." [SBNation]
And still more: "But my first question is, if it can't be measured how do we know that it affects outcomes they way he claims? It's like someone who sees a UFO jumping to the conclusion that since we can't explain what it is it must be aliens. If it's unidentified you have no justification for making that leap. In Lehrer's case, neither does he." [Beyond The Box Score]
Lehrer responds to some critcism, and explains himself: "My first column for Grantland is now online. It's about how sabermetrics, while extremely useful in many situations, can also lead us to conclude that it's more useful than it actually is. This is largely because people tend to overweight variables that can be easily quantified. Comments are not yet enabled on Grantland, so feel free to hate on me (but in a constructive fashion!) in the comment section below." [Wired]
The Dodgers bankruptcy, explained: It's About The Money, which has been doing yeoman's work on the fallout from the McCourt divorce, has a helpful Q&A. [It's About The Money]
Forever Roughriders: "Put together by Rob Bryanton and Don Hewitt of CKCK TV in Regina, that video features a legendary cast of vocalists: noted receiver Don Narcisse (whose career is quite applicable to the current Roughriders), defensive back Harry Skipper, defensive back Mike 'Scooter' McGruder (who went on to a famed NFL career) and defensive back Glen Suitor, who many today probably know more for his work as a TSN analyst (the role he's pictured in at the top of the post) than his memorable career with Saskatchewan. The combination of rock, rap, electric guitar, drum machines, video highlights, repeated audio clips and 1980s hairstyles simply has to be seen to be believed." [55 Yard Line]
Gone fishing: "Zdeno Chara hoisted the Stanley Cup as captain of the Boston Bruins two weeks ago. Next, the big defenseman will be meeting with the Montreal police. Police say they intend to question Chara in the coming weeks and decide whether to press charges for the hit that sidelined Montreal forward Max Pacioretty with a concussion and a cracked vertebra." [Boston Herald]
Bogus trend story alert: "The most enthusiastic customers at the Eldredge Brothers Fly Shop of late are not looking to buy fly fishing reels or snag stripers. They are here to make a fashion statement. In an improbable collision of cutting-edge chic and a hobby that requires drab waders, fly fishing shops around the country are suddenly inundated with stylish women looking to get in on the latest trend: long, colorful feathers that are bonded or clipped into hair." [NYT]
Freestyle anvil launching interlude:

Pittsburgh beckons: "Penguins general manager Ray Shero confirmed this evening that he has offered free agent right winger Jaromir Jagr a one-year contract — he declined to divulge the financial aspects of the proposal — and said he expect to learn Wednesday whether Jagr will accept it. 'We feel from the information we have and after seeing at world championships, that he's a guy who might be able to help us this coming season,' Shero said. 'We feel he's a guy who could help us this year, and retire as a Penguin.'" [Post-Gazette]
So baseball was also the CSA's national pastime?: "South Carolina finished the first College World Series at TD Ameritrade Park the same way it did the last one at Rosenblatt Stadium. The Gamecocks are national champions again. Michael Roth pitched 7 2/3 innings on three days' rest and the Gamecocks were in control throughout a 5-2 win over Florida on Tuesday night that completed a two-game sweep in the CWS finals." [AP]
We are all Dave McKenna CXL: Here's your daily link to Dave McKenna's brilliant "Cranky Redskins Fan's Guide to Dan Snyder," which we'll be posting every day until Snyder's dumbass libel lawsuit gets eaten by a rat king.
The rise and fall of the safari suit: Remembering the multi-pocketed short-sleeved shirt combined with trousers, symbol of modernity and the polyester industry: "The industrialist Rahul Bajaj had a seemingly inexhaustible wardrobe of them. Sunil Gavaskar, India's pre-eminent cricketer at the time, modelled them in advertisements. Film stars such as Rajesh Khanna and Vinod Khanna wore them on screen in iridescent colours. Indeed, the popularity of safari suits was not restricted to India. Businessmen wore them in the United Arab Emirates, in south-east Asia, and in Africa. But in the West, the safari suit in pop culture — in three of Roger Moore's James Bond films, for instance, or in the soap opera Dallas — was a nod to kitsch as much as a nod to style." [The National]
How the mighty have fallen — to Antiphlogistic Analgetic Vantelin endorsements: "Tiger Woods has been hired as a pitchman for a Japanese heat rub used to relieve muscle and joint pain. 'Kowa Company Ltd. is pleased to announce the use of Tiger Woods as the image character of Antiphlogistic Analgetic Vantelin Kowa series,' the Nagoya-based company said in a press release. The TV commercial with Woods will debut nationally in Japan from mid-July." [AP]