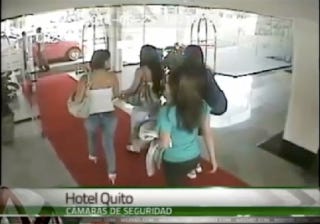 The Copa America is about to start, but eight players on the Mexican side are in big trouble. Seems they had a little place in their Quito hotel where they were running some Ecuadorian whores in and out, trying to be responsible. Then, laptops and iPads turned up missing. They got criticized for that, especially after of footage of those happy handed whores turned up on CCTV.
All of which is to say eight members of the team were sent home amid an ¡escándalo delicioso!
Hector Gonzalez Inarritu, director of team selection, said he would not go into details about the incident but confirmed he felt he was required to act.

"The players confessed," he revealed. "They are very hurt, very sorry and they have said they are sorry to their fans. They are accepting the consequences."
Ecuadorian prostitute scandal involving Mexican football team [Sport Post]
Mexico players suspended from Copa America squad over 'hotel prostitutes' [Metro UK]
Mexico rocked by prostitution scandal [Soccerway]