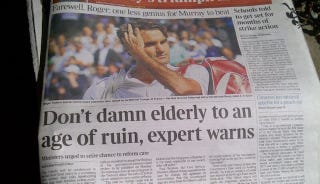 Your morning roundup for June 30, the day the turtles won. Photo via @FortyDeuceTwits.
What we watched: Roger Federer lost at Wimbledon yesterday, the tournament that he more or less owned from 2003 to 2007, when he won five consecutive titles at the All England Club. He fell in the quarters to Jo-Wilfried Tsonga, a 26-year-old with a special serve-and-attack game and now just the third human being to ever beat Federer after trailing two sets to none (and in Grand Slam matches, Federer is now 178-1 after leading a match 2-0). When he'd done it, with a 3-6, 6-7 (3), 6-4, 6-4, 6-4 final, Tsonga fell to the grass in joy and the crowd at Centre Court erupted for him. Tennis fans, after all, have a rather egalitarian stance when it comes to their players. Federer was the sport's deserving and possibly aging prince and would have been the crowd favorite throughout. But Tsonga, who has never won a Grand Slam tournament, got those cheers for the same reason that Federer once got those cheers. No one can replace Roger, yet, but it's still remarkable enough that Tsonga was able to beat him. (Emma Carmichael)
What we're watching: We are 14 hours away from an NBA lockout, and no one seems to care. It's getting less play in media circles than the ongoing NFL lockout, even as players and owners meet today in one last-ditch attempt to find common ground before the CBA expires at midnight. Does America care that much more about football than about basketball? Yes, but that's not the story here.
There's going to be a lockout, but not for long. We haven't seen the vitriol ramped up in the press for two reasons: both David Stern and Billy Hunter have been masterful at keeping their grievances to themselves, or at least keeping it at the bargaining table. NFL players have different goals; so do the owners. Obviously it's the same in basketball, but you won't hear it unless things get dragged out for months. David Stern rules with the kind of iron fist that Roger Goodell dreams of, and Billy Hunter's been doing this for 15 years, already with one labor stoppage under his belt. They're pros.
The second reason is that the sides are not terminally far apart. There's every reason to think a deal will get done in plenty of time to let the offseason proceed smoothly. They've already signaled willingness to compromise: the players have offered to cut salaries $500 million over five years, and the owners have abandoned plans for non-guaranteed contracts. There are no crucial structural issues on the table here, beyond a flex cap which the league doesn't seem married to; it's all about trying to better predict the economy after the last CBA propped up the players right before an extended recession.
So if no one's wringing their hands or doomsaying in anticipation of a work stoppage, it's because no one believes it'll be an extended work stoppage. It's hard to get wound up over a lockout that doesn't end up canceling any games, and both the players and the owners, for all their posturing, seem to believe this won't be one of those. (Barry Petchesky)
Elsewhere
Reggie not playing nice about symbolic bronze statue: "When Bush's disgraced reputation eventually fades from everyday life, which if Bush's recent, media-free SD weekend was any indication may have already happened, the Griffins will retake personal possession of the sacred bronze object to do with it what they please. So when Bush acknowledged what was obviously a forced forfeiture of his 2005 Heisman Trophy, we now know it was absolutely no coincidence that the ex-USC football player released a carefully-crafted statement through his agent Joel Segal that gave no indication that the now-disgraced former Trojan would actually honor the Heisman Trophy Trust's subsequent, repeated requests for him to return the trophy itself." [Sports By Brooks]
Josh Levin takes on Jonah Lehrer's Grantland piece, the growing hatred of numbers in business and politics: "'Best Buy needs to stop relying on accountants to dictate its business decisions,"'says Timothy Smithson of tech consultancy Visionary Partners. 'You can't suss out economic trends with a computer. For decisions this important, you have to go with your gut.'" [Slate]
The best athlete plank we've seen: Via Dwight Howard's Twitter: "Vince carte[r] planking lol"
A map to college football corruption: "College football is a floating republic, and its coronation ceremony is an appropriately fluid affair. The four-bowl rotation of the BCS moves between Miami, New Orleans, Los Angeles, and Phoenix, and those cities all have something very important in common: they're warm, and especially pleasant around January when winter dulls their scorching heat. They all boast ample hotel rooms for the occasion, large stadiums for the games, and colorful nightlife and attractions for attendant non-football festivities. Most importantly, like college football, they are all artificial, corrupt, and yet still exist despite the best efforts of logic, Mother Nature, and the American legal system. [SB Nation]
Richard Swarbick's latest brilliant animation: An ode to Andy, in tennis string form. You can watch the original play here.
China knows fun!: "Competitors showcase their embroidery skills during the second national red sports meeting in Qingyang city, Northwest China's Gansu province, June 27, 2011." [China Daily]
Paul Kariya gets a little morbid on the day of his retirement: "At the age of 36 and after taking a full year away from the NHL to try and recover from the effects of multiple concussions, Paul Kariya retired Wednesday after a distinguished 15-year career. And on the day he did so, Kariya had sharp words of criticism for a league that he believes still hasn't done enough to address the issue of head injuries. 'The thing that I worry about,' Kariya said in an interview, 'is that you'll get a guy who is playing with a concussion, and he gets hit, and he dies at centre ice. Can you imagine what would happen to the league if a guy dies at centre ice?'" [The Globe and Mail]
Extreme ironing interlude:
The bitchy rec league email finds its foil in anonymous neighbor notes: "Dear Caucasian Neighbor, Next time you would like to discuss your bigoted fears of 'being raped by A Big Black Dude when you come home at 3:30 in the morning,' please don't do it in the hallway within earshot of A Big Black Dude. It would be greatly appreciated if you keep your ignorance within the confines of your own apartment. Thank you, A Big Black Dude." [Happy Place]
We should all be so lucky to get concussed by an errant golf ball: "[Chris Logan] had his day cut short when a tee shot from Sean O'Hair, one of his favorite players, struck him in the left temple at the 18th hole. As emergency medical technicians hustled him to a nearby tent to be examined, Logan had no idea this would be the luckiest day of his life. While checking him out for a concussion, a doctor inquired about a lump just below his throat and urged him to visit his family doctor to get it checked out. The lump turned out to be a malignant tumor on his thyroid. He underwent two surgeries less than six weeks after being struck by the ball." [Philadelphia Inquirer]
The new-look Nets will do arts and culcha': Atlantic Yards, the development that will bring the New Jersey Nets to downtown Brooklyn, will also be a cultural center. The Barclays Center, the 18,000-seat arena at the heart of the project, will host performances by artists selected by the Brooklyn Academy of Music in a programming alliance between the two neighboring institutions, their directors said. The collaboration will include three or four shows a year and allow the academy to bring to Brooklyn work that would not fit into its theaters - the largest of which has 2,000 seats - with costs underwritten by the arena. [New York Times]
Finance bros are gluttons in gluttony: "Wall Streeters have famous appetites for wealth and influence — and now some are turning mealtime into a power sport, too. The trend is new and only spottily documented, but high-stakes eating contests are catching on among traders and other employees at hedge funds, banks and investment firms in New York City and beyond. Participants might try, for example, to choke down 100 Dunkin' Donut Munchkins, 6 feet of Subway sandwiches or 85 Wendy's chicken nuggets, for sums large enough to pay their rent. The finance world calls these feats of stomach Food Eating Challenges, and with the slow pace of financial dealings during the summer months — and plenty of interns around to cajole into the action — FECs are as common as cufflinks." [The Daily]
Antonio Cromartie hangs with the stars a guy from Twilight. Via The Jets Blog.
We are all Dave McKenna CXLI: Here's your daily link to Dave McKenna's brilliant "Cranky Redskins Fan's Guide to Dan Snyder," which we'll be posting every day until Snyder's dumbass libel lawsuit gets caught looking.
Handy Wood charged with lewdness in 2 incidents: "Police say [Handy] Wood exposed himself to a female clerk at the Howe Township McDonald's drive-thru on May 17. Then, police said, on May 29, [Handy] Wood parked alongside a woman at the nearby Giant/Rite Aid shopping center parking lot and flashed her." [Patriot-News]
Fashion in your sports!: "The 8,400 spectators erupted into applause. Irving coolly exchanged hugs with family and walked onstage with the studied calm of the Oscar winner for Best Actor. He wore a sleek navy pinstripe suit with a lavender striped necktie — courtesy of Giorgio Armani, and fitted at the designer's megastore on Fifth Avenue a few days before. After putting on his Cavaliers cap, beaming for the cameras and answering countless questions about whether he could replace LeBron James in the hearts of Cavs fans, Irving expounded on his wardrobe choice in the de facto green room, a curtained-off area where he was joined by his father and sister, dressed in their Sunday best. He looked like the groom in a brideless wedding. 'I thought about it a lot, honestly,' said Irving, who was born in Australia and attended high school in New Jersey. Using the public relations skills you'd expect from a top pick who took an acting class at Duke, he added: 'I wanted to be dressed with the best, and what better way to do that than be outfitted by Giorgio Armani?'" [New York Times]