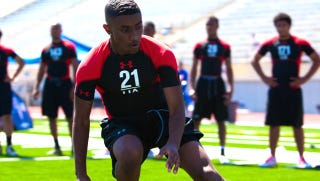 Deion Sanders Jr. is a highly touted quarterback prospect at Marcus High in Flower Mound, Texas, about an hour from Dallas. Having the name Deion Sanders may help him in this realm.
A realm in which it does not help? Trying to buy Chick-Fil-A with his credit card but no ID. And at the same North Dallas shopping mall where cops razzed Dez Bryant for his saggy pants, no less.
The Dallas Morning News explains:
On Wednesday night, his Twitter account described an incident that happened at the trendy North Dallas shopping center: " Police at North Park mall tried 2 get me becuz I tried 2 buy chickfila with my card but didnt have my ID. They Said It was card theft or sum."

The next tweet detailed why the police were questioning his identity: "They thought I stole the card or somethin cuz it said Deion Sanders. I'm like sir I'm not tryna be cocky but you can google me and see..."
No word on whether Deion junior ultimately procured his chicken. We hope he did.
Flower Mound Marcus QB Deion Sanders Jr. tweets about North Park incident; He sees 'how Dez Bryant felt' [Dallas Morning News, via Rivals High]