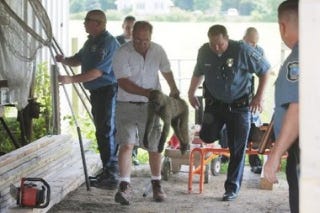 The Star-Ledger and others are reporting that a runaway baboon from the Six Flags amusement-park safari in Jackson, NJ was tranquilized and taken into custody around 2:40 p.m. after three days on the lam.
"Our staff confirmed that an adolescent baboon was found in Howell," said Kristin B. Siebeneicher, a spokeswoman for Six Flags Great Adventure. "The animal was tranquilized and is being brought to the safari for a physical exam and health assessment. ... While we haven't confirmed the origin of this animal, it seems likely that it is one of the Safari's baboons."

Great Adventure is home to a drive-through safari. About 150 baboons roam free and breed inside a chain link fence there, and the state does not require the park to keep an exact count of how many primates it has on a given day.
Now, the only thing Jerseyans have to B.O.L.O. for are gorilla juiceheads which generally are not as fleet of foot as to warrant much concern.