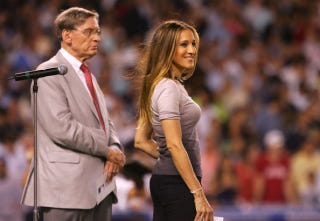 Woe are the not-quite Major League Baseball All-Stars. They have to depend on the kindness of "The Final Vote" fans who already made it clear that they didn't deem 'em Midsummer Classic worthy, but those are the thinkers dictating who gets bonuses and future-contract negotiating clout.
Mind you, these are the same voters who selected Derek Jeter to represent the league even though he's down in the minors rehabbing a calf strain. This is probably why there is no write-in option, lest Paul O'Neill get the nod in right.
So anyway, the American League honorable-mention field consists of Alex Gordon (LF, Royals), Adam Jones (CF, Orioles), Paul Konerko (1B, White Sox), Victor Martinez (DH/C, Tigers) and Ben Zobrist (2B, Rays).
Over in the National League, it's Andre Ethier (RF, Dodgers), Todd Helton (1B, Rockies), Ian Kennedy (RHP, Diamondbacks), Michael Morse (LF, Nationals), and Shane Victorino (CF, Phillies).
Let the shameless PR-gimmick campaigning begin!
Rosters unveiled for 82nd All-Star Game [MLB]