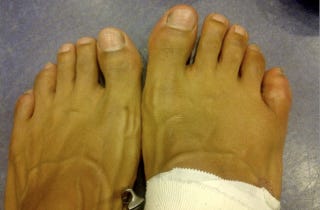 So, here's the picture that David Haye posted on Twitter last night after he "fought" Wladimir Klitschko in Hamburg, Germany. After months of smack talk, he typed...
Broken toe 3 weeks ago, meant I could shoot right hand like I'm used to. :-(
Oh. Go on.
No way I could pull out after so many fans paid their hard earned money. I believed I could still win. Klit fought me great, credit to him.
Anyway, nice pedi, David.
David Haye lambasted by critics for excuse about broken toe following defeat to Wladimir Klitschko [Telegraph]