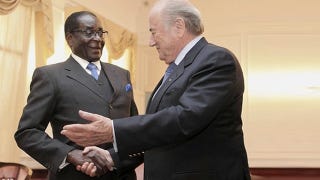 This image is cause only for despair. Can you believe Robert Mugabe would shake this man's hand? For shame. We've witnessed this kind of debasement before, when Russian crime figures, vile dictators and Michel Platini have lowered themselves to drinks and smirks with Sepp Blatter. On Monday, Blatter winged into Harare on a private jet. If he intended to recruit Mugabe to his "council of wisdom," he didn't mention it. According to The Guardian, the FIFA overlord had other things in mind:
[Blatter] pledged $1m (£620,575) over four years for football schemes in the country.
Schemes? You don't say.
Fifa's president Sepp Blatter meets Zimbabwe dictator Robert Mugabe [The Guardian]