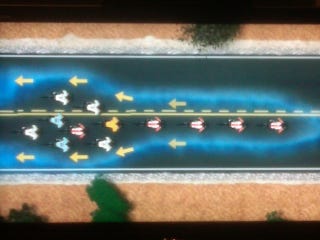 The Versus coverage team for Stage 5 of the Tour de France set out to describe the effects of the headwinds on lead riders in the peloton today. Explains tipster Jim:
The graphic is generic but can be taken to show how a team will line up to protect the yellow jersey when forced by the rest of the peloton to lead from the front and absorb the brunt of the headwinds
However generic it may have been, in doing so, they created a long blue dong. À votre santé!
Live Coverage of Tour de France - Stage 5 [Cycling News]