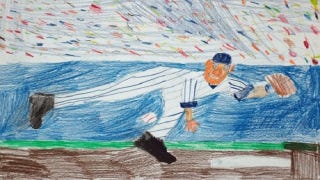 Would you like to read the two silliest sentences ever written about Derek Jeter in the mainstream press? Two sentences so silly that if you told me someone had liberated all the drunk tanks within the Beltway and set the good folks loose inside whatever inflatable bouncer passes for the USA Today newsroom, whereupon everyone put together the weekend edition with scissors and glue and glitter and sparkles and fewer crayons and Magic Markers than are normally required for a weekend edition of USA Today, I'd only say, "Aha! So that's why the purple section is readable today!"
Would you like to read those two sentences?
Image is what solidifies Jeter's place among the Yankees greats. He has been single for his whole career.
He can't get to 3,000 soon enough.