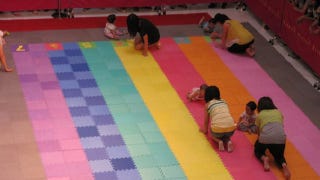 The Windsor Mall in Hong Kong gives us a preview of what life will be like if there's no football on Sundays. Like our Chinese friends, we will take to the malls and race our babies. Says our tipster:
No results as notable as baby crashes...it was basically the babies either moved or they didn't. The one baby in my picture [below] (back left corner of the ring) was seriously off-roading it, though...he/she crawled backwards instead of forwards and then started rolling around for a while, while the mother tried unsuccessfully to coax him/her back towards the lanes. What a clown.
Note the numbered lanes: the kids also have corresponding stickers on their backs. It goes on for hours and draws quite a crowd.
If you're in the area and either have or are a baby, consider participating.
See Also: New Sport Alert: Lithuanian Baby Racing