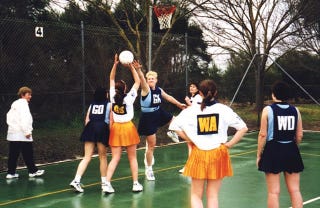 Per the Warnambool Standard, "A district league netballer has been given a two-week suspended sentence following allegations she made indecent contact up an opponent's skirt. The South West District Football Netball League (SWDFNL) has refused to name any of the parties involved or the circumstances surrounding the sensational case, which was heard last Thursday.
"The Standard can reveal that the player was accused of sticking her finger up an opponent's skirt several times and making inappropriate contact with her behind and crotch area. Witnesses reported seeing the victim crying after the round 12 match."
Yeah. That's something. Anyway, you're probably wondering what the hell netball is. So, click here.
Indecent contact in SWDFNL netball scandal [The Standard] (H/T Kirk W.)
Country netballer suspended for Hopoate-style incident [Herald Sun]