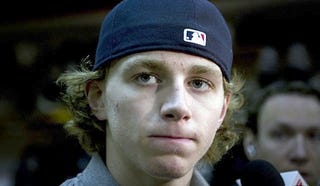 The Blackhawks announced that Kane will undergo surgery to repair a fractured wrist. We were inundated with requests to investigate, because PK is a favorite around these parts.
Has it come to this? The man, a professional athlete, has an injury that the American Association of Orthopedic Surgeons specifically says "often happens during sports activities," and you all assume the worst? Shame on you all.
That said, if you have photographs of the sawdust-and-vomit-covered Northside dive bar floor that Kane undoubtedly fell on while simultaneously engaged in drunken fisticuffs and a threesome with two Loyola nursing students, you know where to send them.