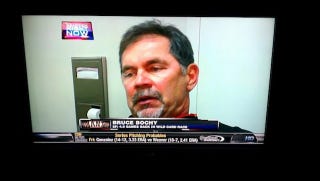 Tipster Andrew sent us the above photo of the San Francisco Giants manager and added this: "Check out this screen shot of Bruce Bochy's postgame interview. Notice anything odd in the background? Is it possible the man is giving an interview while dropping a deuce?"
Now, it's highly unlikely that Bochy would consent to be interviewed while in the middle of pinching a loaf. Slimmer still are the chances the Giants beat reporters would reduce themselves to crowding around a man on a toilet for a chat, even under the pressure of the most unforgiving deadlines. Bochy certainly doesn't appear to be in a stall, but the paper-towel toilet-seat-tissue and toilet-paper dispensers in the background next to his face are unmistakable. Where is he?
We could put this question to anyone who has worked in the visitors' clubhouse at Dodger Stadium, but this is way more fun. So we're asking you, our loyal operatives on the I-team, to spring into action. Tell us why, if Bochy wasn't taking a crap during this interview, it certainly looked like he was. Dump your answers into the bowl at tips@deadspin.com. Help us get to the, uh, bottom of all this. Go!