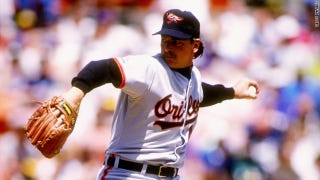 The Baltimore Sun is reporting, based on police records released via Public Information Act request, that Cy Young Award winner and Orioles broadcaster Mike Flanagan's suicide did not come as a complete surprise to those closest to him.
In an interview with police detectives, Flanagan's wife described several occasions in which he grabbed a shotgun and walked outside their Sparks home, declaring, "I can't take it anymore." Each time, Alex Flanagan said, she talked her 59-year-old husband back inside.

The account adds to an emerging picture of Flanagan as a troubled man who was struggling with his career and finances and had grappled with suicidal thoughts. ...

According to the newly released police records, Alex Flanagan told detectives they both were "distraught" over his job and that he had been working without a contract for the Mid-Atlantic Sports Network for the past year and a half. Flanagan had told his wife he felt "insignificant" and threatened to shoot himself in June, prompting a visit by police, according to the records.
Police denied, however, initial reports that "Flanagan was upset about fans blaming him for the current struggles of the Orioles."
Records: Flanagan had threatened suicide before [The Baltimore Sun]