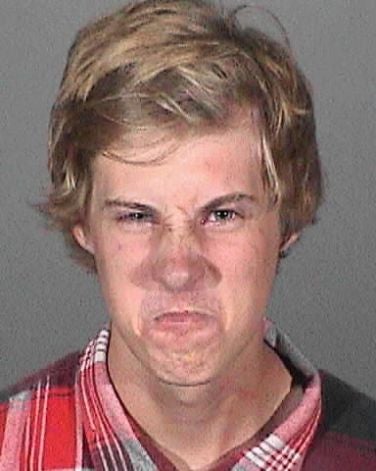 This is Nicholas Fiumetto. He's one of three 19-year-olds from Covina, Cal. who got caught stealing 30 packs of Tecate the other day. Well, that's an oversimplification. Here's a portion of the L.A. Times story about Fiumetto et al's attempted flight from justice:
Fiumetto climbed a fence and ran into the Citrus Car Wash next door.

Pepe Pinedo, the car wash manager, was standing amid drying cars when he saw Fiumetto, pursued by two officers, run into the car wash tunnel.

At the time, "there were two cars being washed in the tunnel," Pinedo said. "He got into the wash and the rollers and got all wet.

"By the time, he came out of the car wash, the officer was already on the other end of the tunnel," he continued. "It was kind of funny. It was a nice show."
Great story. Greater pose striking.
Which One of These Alleged Beer Burglars Has the Best Mugshot? [Gawker]