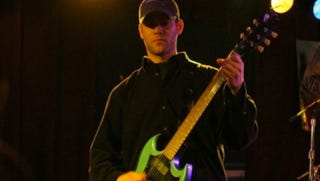 Your p.m. roundup for Oct. 4, the day we saw the worst ad campaign ever. The report on Epstein being granted permission to speak with the Cubs is here. Got any stories or photos for us? Tip your editors.
What we're watching (all times EDT, unless noted): Los Angeles-New York in MLS soccer is on ESPN2 at 8. Game 4 of Yankees-Tigers is on TBS at 8:30. Game 3 of Brewers-Diamondbacks is on TNT at 9:30.
Read Me
A Fear And Loathing Follow-Up, 40 Years Later: "A semi-competent feature here, a not-totally-botched essay there, and then, one day, when your editor is particularly distracted, downtrodden or simply in need of something to believe in, you push your meager pile of chips to the center of the table. You look your mark in the eye and bluff. 'It is the 40th anniversary of Hunter S. Thompson's 'Fear and Loathing in Las Vegas,'' you say, your face calm, confident, 'and I want to go there, to write a piece on the book, and the American Dream.' You don't expect him to say yes. Pitching stories on the American Dream is what writers do when their hearts are empty, their minds blank. It is the equivalent of stalling for more time, throwing a Hail Mary down eight with time expiring, a way to mark your commitment and plucky optimism before admitting defeat and moving on to something with an actual chance of success. Plus Las Vegas is an awful place - particularly in high summer, when hackers converge on it for their annual conference, DEFCON, and the heat is powerful overhead. The city's overpowering forces of boredom bear down. Loitering out in the desert with people inclined to regard you and your chosen profession with hostility, attending their off-road races, chasing the ghost of Hunter Thompson around casinos that have done everything in their power to efface any historical context or nostalgia - this is not something you actually want to do. He says yes." [The Daily]
This Date In Deadspin History
Oct. 3, 2005: Good Times And Bad Times For Simmons Duo
Things You Might Have Missed Today
Some quick links to a few items we posted earlier:
• The Best Of Grantland, Now Available In A $20 Leather-Bound Edition
• These German Soccer Fans Were Thrown Out Of A Stadium For Having Sex In The Stands (Twice)
• Torrey Smith Wants You To Know He Wasn't Tim Tebow When He Was In College
• What Curtis Painter And North Dallas Forty Tell Us About The Real NFL
• A Homemade Infographic To Help Explain Who Is Still Chasing The Pennant And Who Is Not
• John Calipari Overlooks That Louisville Is Also Located In Kentucky, TV Reporter Too Smitten With Him To Notice
• The NFL Player's Existential Dilemma
Elsewhere
This is gonna take a while: "Negotiators for the league and the players union met in Manhattan, but failed to reach agreement on the economic issues that have separated them for months: most critically, how to divide $4 billion in annual revenue. The parties needed a breakthrough this week to avoid canceling regular-season games. It is now virtually impossible to open the season on time, Nov. 1. The N.B.A. has not lost games to a labor standoff since 1998, when a protracted lockout reduced the season to 50 games." [New York Times]
Ah. There it is: "Hank Williams Jr. issued an apology on Tuesday, one day after ESPN pulled his introductory song for Monday Night Football after the singer used an analogy involving Adolph Hitler and President Barack Obama to make a political point. Williams, in a statement posted on Facebook and his website Tuesday, said that his passion for politics and sports 'got the best or worst of me.'" [ESPN]
Your Armenian Mattress Store Commercial Interlude:

The Steelers are in trouble: "Harrison will undergo surgery Wednesday. He suffered the injury Sunday at Houston, when he took a helmet-to-helmet hit. Steelers coach Mike Tomlin said that Lawrence Timmons will slide out to Harrison's outside-linebacker spot, with Larry Foote plugging the inside position vacated by Timmons' move. Consider it the football equivalent of using a piece of gum to plug a hole in a dam - Pittsburgh had major problems before losing Harrison; it's not too hard to imagine the situation getting a whole lot worse in the near future." [Sports Illustrated]
"The three chillmigos": "Think about it, man! Walton talking about always feeling like a Z-Boy at heart, his belief that Earl Monroe could've been a brilliant street luger if given half a chance and how, without an underpinning of industriousness and poise, no man could ever complete a 720. White spouting the catchphrases (just spitballing here, but maybe, "Siiiiiiiiiiiiiiiiiiiick"?), draws in the ladies and sells the advertisements. Hawk standing aloof off to the side, holding a skateboard so that you remember who he is." [Ball Don't Lie]
Dickey's Drake piece earns coveted rating: "Lowbrow/Despicable"! [NY Mag Approval Matrix]
Merch: Managing editor Tom Scocca and contributing editor Drew Magary have both written books. You can buy Scocca's Beijing Welcomes You: Unveiling the Capital City of the Future here, and Magary's The Postmortal here. Now do it.
Send stories, photos, and anything else you might have to tips@deadspin.com.